REUSE 2017 - Santa Clara, CA
December 14, 2017 at the Santa Clara Conference Center
Please visit us at the Silicon Creations Exhibit during the 2017 REUSE Tradeshow and Conference.  And be sure to join Andrew Cole as he presents "Developing 7nm IP for Saftey Critical Automotive Applications" in Room 212 at 11:15 AM.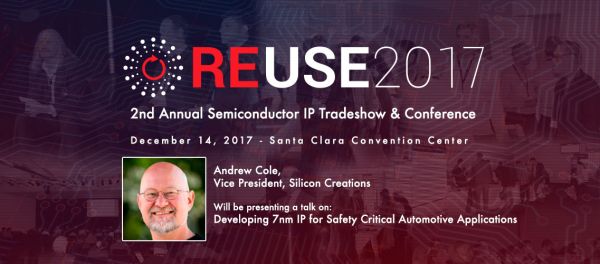 Authors: Brian Eplett, Adam Golda, and Andrew Cole
Abstract: As if developing first time right IP in 7nm were not difficult enough, ensuring this IP is sufficiently reliable and safe for automotive applications adds a new dimension. This talk provides an overview of the additional design work, verification and reliability calculations layered on top of a standard PLL IP development plan and how the results are documented. It also provides a summary of the Design review materials, ISO26262-compliant FMEDA and ASIL-B/C Safety Manual documents usually required in such cases, and some methods that can be used to ensure PLLs are functioning as intended. The paper also provides a summary of an AEC_Q100 pre-qualification plan that can be used with samples from two MPW wafers to lower the risk that an end product including the tested IP fails final product AEC_Q100 reliability testing of 2700 product samples.
About Silicon Creations
Silicon Creations is a leading silicon IP developer with offices in the US and Poland. The company is focused on providing world-class silicon intellectual property (IP) for precision and general-purpose timing (PLLs), low power, high-performance SerDes and high-speed differential I/Os. Silicon Creations' IP is proven from 7 to 180-nanometer process technologies
Back to Top